Who are BSI?
Created as a national body in 1901, for the purposes of offering an expert judgement, the British Standards Institution (BSI), now globally recognised, are leading the way in developing solutions to pressing issues, locally and globally.
BSI, the world's first National Standards Body and a founding member of the International Organisation for Standardisation (ISO) are among the most respected and reputable management systems certification bodies in the world and are accredited by around 20 local and international bodies. Their accreditations mean that they have been assessed against internationally recognised standards and operate to the highest levels of quality and service.
This means that if you see any business with the BSI kitemark then you know that they have been through a stringent assessment of both their process and their product by this world renowned expert body, and that the kitemark is credible and impartial.
What is the BSI 8887 Kitemark?
The Kitemark certifies the refurbished processes carried out by a supplier of remarketed items is based on the application of BSI 8887 series of standards for design for manufacture, assembly, disassembly, and end of life processing (MADE), as well as best practice principles of ISO 9001.
To achieve the BSI 8887 Kitemark, Ikonic underwent a stringent assessment of our processes as well as a product assessment. This assessment can take months or even years to complete. Each step of our production process was carefully assessed and monitored, and will continue to be audited to ensure those standards are met.

Why is the BSI Kitemark important to the refurbishment industry?
In a previous blog we highlighted that not all companies refurbish to the same standard and there is a distinct lack of consistency between suppliers when it comes to their grading.
However, now is the first time the market will have an independently verified mark of trust, linking value with quality, giving consumers confidence that the products will meet the level of quality, performance and reliability expected.
If you are selling devices with the Kitemark then consumers will know that what they are buying is coming with a high standard of quality and that will give them reassurance and confidence when buying refurbished.
What does the future hold?
As of May 2023, there are less than a handful of businesses in the UK, possibly even globally that have been awarded the BSI 8887 accreditation, of which Ikonic are one. Our prediction is that over the next few years more suppliers will get the Kitemark but many will choose not to. They won't have the faith in their products or their processes and will choose to target the lower quality and cheaper end of the market.
It is our belief that this scenario will create a more defined market, and customers will benefit from knowing which suppliers are working at which end of the market.
Our second prediction is that government bodies and companies that are particularly interested in improving the carbon footprint encouraging sustainability and reducing waste, are going to only deal with those suppliers that carry the Kitemark.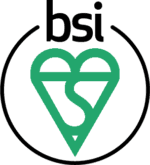 Conclusion
The BSI 8887 Kitemark is relatively new but its validity to represent quality is unmatched. In the coming months and years businesses are going to recognise it as the premium industry standard for refurbished technology. For the customers that care about sustainability, and quality, as well as saving money, they are going to know that this kitemark is a third-party representation for the industry that they can trust.

Ikonic are pleased to be one of the first companies in the UK to have the Kitemark and we look forward to what the future holds.