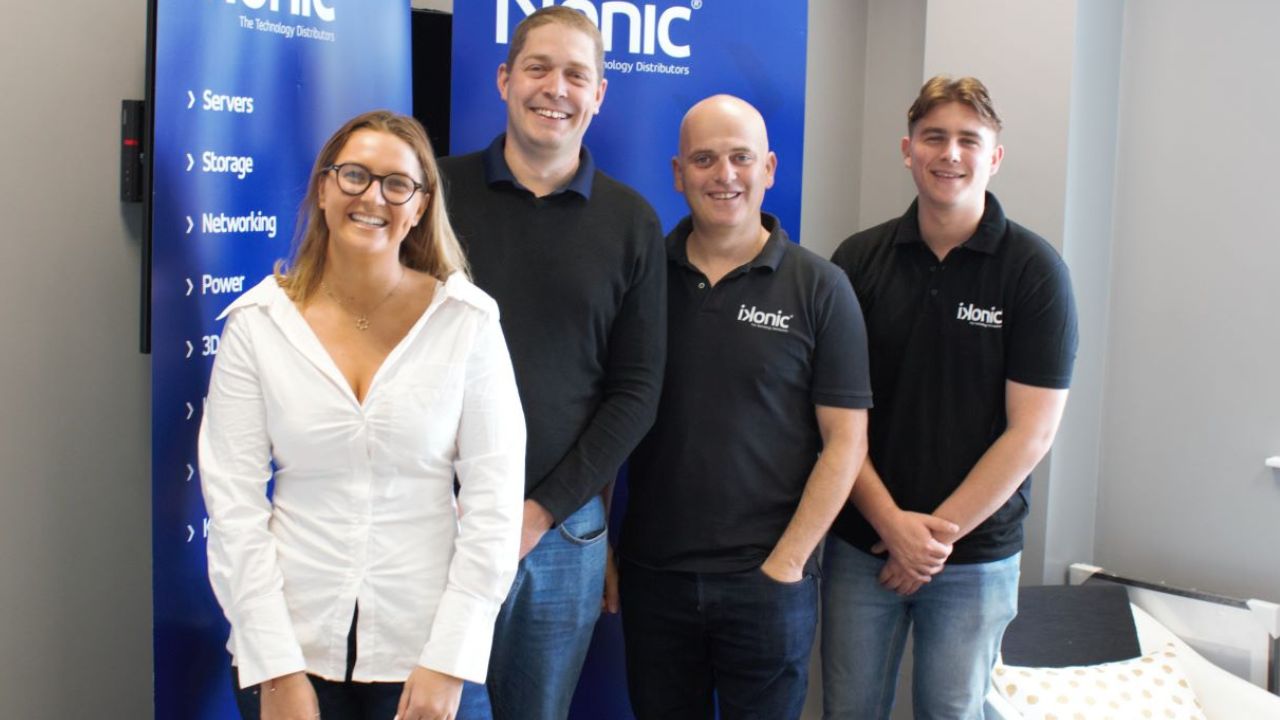 Tony Levene Director at Ikonic, believes one of the biggest differentials if not the biggest differential between Ikonic and its competitors is the staff.
Last week three of Ikonic's new starters sat together to discuss their first few weeks and the start of their Ikonic journey.
The three new starters are:
Guy in marketing
Louis in sales
Jess in purchasing.
What's your background prior to joining Ikonic?
Jess: I was a trainee Manager with Morrisons and was going to move to head office in September. It was a great opportunity. But for me it just didn't feel right, it wasn't what I wanted to do.
Louis: For me personally I was in technology sales, but I was in software but coming into a company that sells hardware it has been interesting to learn about a whole different industry. Technology is a massive sector but there is so much to it. Learning a new side to it, the hardware side of things has been really interesting to me. It shows how important it is and how reliant businesses are on it.
Guy: I will be honest; I wasn't looking for a job. I was very happy running my own business, it was a lot of fun, and it came with a lot of flexibility. But a recruitment agent approached me and Ikonic is close to home, Ikonic are a large company with a massive turnover and their vision for marketing was in line with what I am wanted to do.
How have you found your first month at Ikonic?
Louis: One of the things I noticed straight away about Ikonic is that in my last job, people were coming and going all the time. At Ikonic everyone has been here 5, 10, 15, even 20 years. You can see the difference in the staff. Ikonic look after their staff and the way they run the business is very good.
Jess: I have always wanted to be a buyer, specifically in the fashion industry. That is one of my life goals for the future. But this opportunity at Ikonic is such a good opportunity and I am learning so much and I finding it really interesting.
Guy: On my first day I had a tour of the building with Chris Perry. What I liked was that as we went around the building everyone seemed to know Chris. I have worked in a previous company, and it was Christmas, they had a new MD and he had been there for nine months and he stood up and introduced himself to the staff.
Louis: How could people in the company not know who the MD is?
Guy: I know. Whereas at Ikonic everyone knows each other.
Jess: It's like at Ikonic it feels more like a family, everyone knows each other, and everyone is really friendly. Especially the Directors, they are very welcoming.
Guy: It's very inclusive and I think that the open plan office really contributes to that. I think if you look at the three of us, we all have a Director within two meters of us.
Louis: Tony's next to me
Guy: Josh is opposite Jess I am opposite Jon.
How have you found the training at Ikonic?
Jess: I am impressed by the training I am getting. For the first time, including school the information is really sinking into my brain. I am understanding about technology that I don't know about; I have never been into IT or computers before. I am learning about trading, which is really interesting, and it is actually sinking in, and it is benefitting me a lot. I also like the way you are treated here and how much you are appreciated.
Louis: I must agree with you, I mean with my last company the training was so different. Here I am having actual quotes or purchase orders to put in. It is real live on the job stuff whereas at my last place, I was literally listening to demos and previous calls and then I was thrown into the office to get stuck into it. Whereas here, Ikonic don't want you going on to the phones until you understand everything. And that is how it should. I am encouraged as a salesperson to be the best that I can be.
Guy: Do you think this is difference between Ikonic and your previous company? Ikonic invests the time into you because they want you to be here 5, 10 20 years.
Louis: Ikonic is different to previous companies that I have worked at. Ikonic want you to learn, they want you to understand the products that you are selling. Ikonic take time to train you here, they want you here for the long-term. The way they train their staff is totally different, in my last job I had three days training and that was it. Whereas at Ikonic they invest the time in you.
Jess: They give time to you because they want you to get it right.
Guy: I spoke to Tony last week and I was asking him what makes Ikonic different to other businesses in our industry? His answer was the only way we can be different is the people that we have. The quality of people that we have and the quality of people that we are bringing in is very important to Ikonic.
Jess: That is why people probably stay here so long.
Louis: We are pushed to achieved and to grow everyday but we are supported to do it.
Jess: (Laughing) Before we know it, it will be the three of us that have been here for 20 years.
What's surprised you about working at Ikonic?
Louis: For to me I am very mentally tired by the end of the day. I have always loved technology but the products that we are selling here are so much better than what I was selling before. The training is so much better. Obviously, work is work, but for me the thing that surprises me is how much it doesn't feel like work and how much I am enjoying it.
Guy: I agree, one of my first tasks I was asked to look at was the company culture. Chris was keen to investigate ideas of how we can improve it. But having spent a month in the company I have to say that the culture is already extremely good.
Louis: Yeah, it's like the ice cream van that came by the other day, it's those little touches that make the difference. You can see that the Directors care about their staff.
What's impressed you in the first few weeks of working at Ikonic?
Louis: I love the open plan office and that everyone is very close and there is always help available. Tony, Aaron, everyone in the sales team have always been very supportive obviously I am here to learn about industry and all they want to do is help. They have been really good to me.
Guy: It is a problem-solving office. How often have we seen Jon or Tony stand up and start asking team members to quickly get involved to solve a customer's problem?
Louis: Absolutely.
Guy: I worked for an international insurance Broker with a $4 billion turnover. The problem with this was that there was so much red tape it was really hard to get marketing done or do anything reactive. But here when I have made requests to the Directors they respond and make decisions quickly. It is amazing to be in a company of this size and yet get things done so quickly. That surely must be a benefit for our customers.
Jess: There is no chasing, it just gets done.
Guy: I think that it comes down to the open plan office. All of the Directors are accessible and all of them are approachable.
Jess: They are so approachable; you can ask them anything really.